Pass-Through
Pass through cabinets are specialized for contamination free transfer of materials in and out of the cleanroom. They reduce unnecessary contamination of the cleanroom.
Features
slope top

reduced retention of dust on surfaces

fixed hangers

clothing does not touch in between
air permeable perforated steel frame
air flows between garments

smooth edges

prevents tearing and cuts

double sided doors

door management system
double door opening system

handle

button on handle opens door via electromagnet

adjustable shelves
Benefits
Hangers made of stainless steel – durable and resistant to deformations rounded corners
Smooth shelves good cleaning ability – low surface roughness and easy cleaning
Electromagnet electromagnet linked to a button on the handle ensures safety locking prevents the door to open
Lighting warning light indicates that door is open increase visibility inside the cabinet
Fabrication material
AISI 304
2R – high gloss polished
optional AISI 316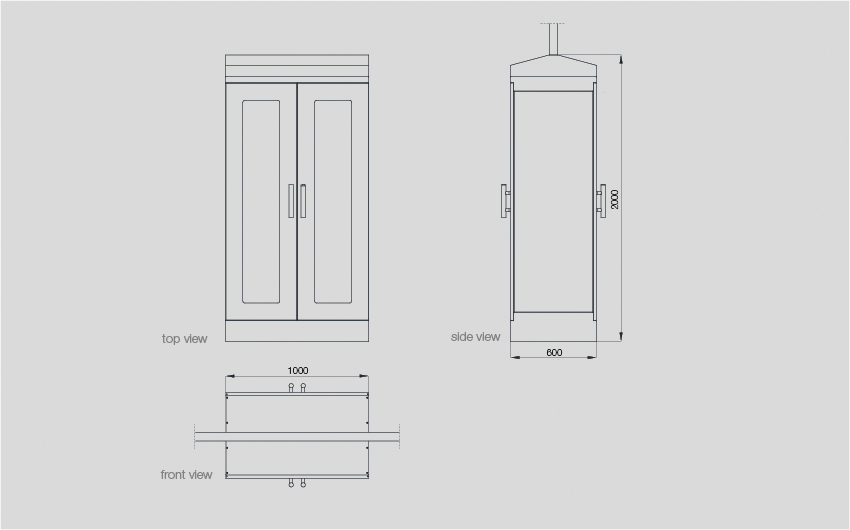 Maintenance
Good clean ability due to low surface roughness and easy cleaning access
Very good resistance against chemicals and all regular cleanroom disinfectants (alcoholic, biocidal and sporicidal)
Ergonomics
Easy handling
Adjustable shelves height
Minimization of gaps, hygienic design
Packaging
carton box + polypropylene bag, 1pc.